Ready to ship items will be shipped within 1 – 3 business days.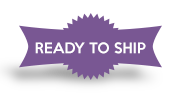 Custom orders will take longer. First the piece has to be created. Clay is a material that has to dry evenly and slowly, the process cannot be rushed, otherwise cracks are caused by an uneven drying process. It depends on the thickness of the piece itself and temperature and humidity during the process of its production. When the pieces are finally dry they have to be bisqued for almost a day and then have to cool down, they get glazed and fired. Some get fired twice like in the process of making horse hair pottery.
Please allow 8 weeks. Most orders will be done faster but that is a time I can guarantee.
I mostly use USPS for my orders. I have learned to really wrap and pack my items well and after my initial learning curve have not had any broken pieces.
I am happy to ship via UPS or FedEx as well.
I use glazes that have no lead in them. So, yes, that makes them food safe.
I also test my products – not every one individually but I test the actual glaze on different clay bodies every so often to make sure there is no leaching occurring. All glazes are fired at a temperature of around 2300 degrees and melt and that way adhere to the clay body.
Yes, absolutely. I make every piece myself from the moment I put the clay on the wheel to the moment when I pack your order safely and securely and ship it off to you.
For custom orders please contact me.
We happily supply frequent discount codes to our email subscribers. Want a discount code?
Get an instant 20% discount by clicking here.